CIVILWARE Puncher Folding Knife
The CIVILWARE Puncher Folding Knife is a looker in every sense of the word. Refined and simple, it quickly found its home in our hands with the textured design and of the minimalist, ergonomic style of the handle, while the stainless steel screws are welcome accents to its otherwise solid shape. It is made to be carried, every day, with the Puncher's clip securing its place in a pocket for the ever slight reassurance of its slim presence. Using it is effortless. A small disk on the spine, just in front of the bolster, makes it easy for a righty or lefty to flick the blade open for a satisfying click as it locks into place. All of these practical details make the Puncher an easy recruit for dependable use.
Geoff Rowley, the professional skateboarder, hunter, guide and owner of Civilware, founded the brand to provide a most necessary tool for any outdoor pursuit.
Available in black or OD green (we have the green), the Puncher is among the most compact offerings available from CIVILWARE. If you prefer a sheath, this knife is also compatible with the company's Western Pocket Sheath.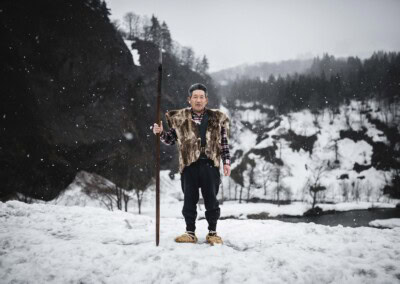 Matagi
"The word 'matagi' is derived from 'matagu', meaning to cross over, step over or straddle, bounding an image of people between two worlds — the realm of humans and that of the mountain deity: yama-no-kami." Scott Schnell, Ph.D., Associate Professor Emeritus in Anthropology This post is only available to members.
Deer Wars
Therein lies the overarching question: what does society want our landscape to look like? We seem to be moving toward a future where, in the name of "rewilding," people are disassociating with the land. This post is only available to members.