Boar Potstickers with Jalepeño Soy Sauce
ORIGINALLY PUBLISHED IN MODERN HUNTSMAN, VOLUME THREE: WILDLIFE MANAGEMENT
GET YOUR COPY HERE

FOR MORE WILD GAME RECIPES, VISIT JESSE'S WEBSITE, DAI DUE
---
INGREDIENTS
FOR THE POTSTICKERS
1/2 pound ground boar
2 cups finely chopped green or Savoy cabbage
2 tsp salt freshly ground black pepper
1 TBSP minced ginger
1 TBSP minced garlic
2 TBSP soy sauce
6 green onions, sliced thinly
1 egg, beaten
24 potsticker wrappers
FOR THE SAUCE
1/2 cup soy sauce
1/4 cup rice wine vinegar
1/4 cup sliced scallions
1 teaspoon sesame oil
1 teaspoon sugar
1 jalapeño, thinly sliced (optional)
1 TBSP lard or oil
1 cup water
DIRECTIONS
In a bowl, mix the cabbage and salt together and let stand for 30 minutes at room temperature. Drain the cabbage in a colander, pushing down on it to remove as much water as possible. Once well drained, combine the remaining non-sauce ingredients, except for the wrappers, in a bowl and mix very well.
For the sauce, combine all of the sauce ingredients in a separate bowl.
Place a small mound (about a tablespoon) of filling in the middle of each wrapper, keeping it centered. Fold the wrapper in half to form a half moon shape and pinch the wrapper tightly together, making a tiny fold. Repeat folding and pinching until the potsticker is tightly sealed. Place the finished dumplings on a parchment paper-lined tray and cover with a damp towel until they're all done.
Have ready a tight-fitting lid for a large saute pan. Heat the lard in the pan over high heat and then add the dumplings, flat-side down. Sear the potstickers for a couple of minutes until nicely browned, then carefully add the water — it will splatter — and cover with the lid. Forcefully steam the dumplings for 4 minutes, then check the pan. The water should be mostly evaporated. Remove the lid and continue to cook until the water is all gone and the potstickers start to brown a bit again — the sound will go from a steamy bubble to a sizzle. Stay alert. At this point, they're ready. Gently remove them from the pan with a spatula.
Serve with the dipping sauce.
Lure of the Laguna
Lure of the Laguna is the first film in our four-part series with Lone Star Beer. Chapter One features angling savant Ben Paschal and his obsession with saltwater fly fishing on the coast of Texas. It's a story about hard work, dedication, and bailing on the internship his parents wanted him to take to follow his passion in the Laguna Madre.
El Observador
"El Observador" is a short documentary following wildlife cinematographer Austin Alvarado and explores his relationship with nature via his work pursuing black bears in Far West Texas. It is a visually stunning journey through the Big Bend region that highlights the incredible resilience of bears that have returned to this area. "El Observador" is a Modern Huntsman film presented by SWAROVSKI OPTIK.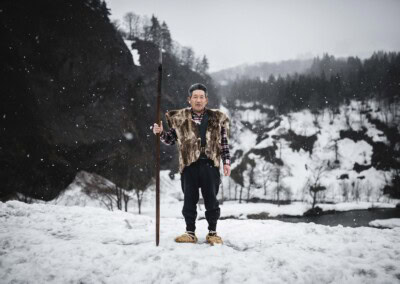 Matagi
"The word 'matagi' is derived from 'matagu', meaning to cross over, step over or straddle, bounding an image of people between two worlds — the realm of humans and that of the mountain deity: yama-no-kami." Scott Schnell, Ph.D., Associate Professor Emeritus in Anthropology This post is only available to members.