Force of Nature Grass-Fed Bison Tacos
ORIGINALLY PUBLISHED IN MODERN HUNTSMAN, VOLUME FOUR: The WOmen's Issue
GET YOUR COPY HERE
---
Force of Nature Grass-Fed Bison Tacos
Serves 2-4
Pickled Onions
1 Red Onion
1/2 Cup White Vinegar
1/2 Cup Water
1 Pinch of Sugar
TOMATILLO SALSA
2 Tomatillos
1 Poblano Pepper
1 Juice of 1 Lime
2 Garlic Cloves
2 Jalapeño
1 Handful Fresh Mint
1 Handful Fresh Coriander
– Salt and pepper
Tacos
1 Lb. Force of Nature Ground Bison
– Extra Virgin Olive Oil
1/4 Tsp. Cayenne Pepper, or to taste
1/2 Tsp. Smoked Paprika, or to taste
– Salt & Pepper to taste
1/4 Cup of Bone Broth
– Fresh Cilantro
– Grated Cheese
1-2 Limes, cut into wedges
Instructions FOR THE PICKLED ONIONS
1. Make the pickled onions a couple hours before, the night before is even better.
2. Heat vinegar, water and sugar until sugar is dissolved. Pour mixture into a glass jar with lid or other sealable container.
3. Slice the red onion and add to the same jar. Place in fridge.
FOR THE SALSA
1. Roast the tomatillos and peppers until soft (raw is fine if you are short on time). Preheat oven to 400 degrees. Brush a baking sheet lightly with olive oil.
2. Cut tomatillos and peppers in half, lay on baking sheet with cut side facing up. Let them roast for 20 minutes, turning every 5-10 minutes.
3. In a food processor or blender, mix the roasted peppers, tomatillos, garlic, herbs, lime juice, salt and pepper and roughly blend.
4. Serve cold.
For tHE TACOS

1. Heat oil in a large skillet over medium-high heat.
2. Add ground meat to hot skillet. Cook until brown.
3. Add cayenne pepper, smoked paprika, salt, pepper and bone broth.
4. Lay the cooked meat on small flour tortillas. Top with pickled onions, cilantro, grated cheese and your favorite salsa. Serve with lime wedges.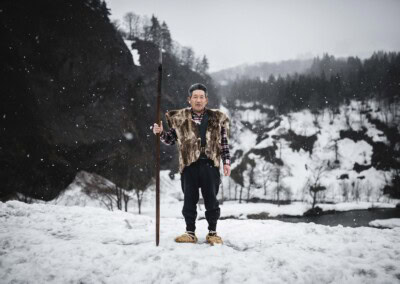 Matagi
"The word 'matagi' is derived from 'matagu', meaning to cross over, step over or straddle, bounding an image of people between two worlds — the realm of humans and that of the mountain deity: yama-no-kami." Scott Schnell, Ph.D., Associate Professor Emeritus in Anthropology This post is only available to members.
Deer Wars
Therein lies the overarching question: what does society want our landscape to look like? We seem to be moving toward a future where, in the name of "rewilding," people are disassociating with the land. This post is only available to members.