Recipe featured in Modern Huntsman Volume Two.
---
~
serves 4 / FOR ALL BEAR MEAT cook to a min of 165 F (74 C)
~
Ingredients
5 egg whites
1 lb / 500 gram chopped beef of the shank
1 medium onion, chopped
1 celery, chopped in coarse pieces
1 carrot, chopped in coarse pieces
0.4 lb / 200 gram chopped tomatoes
10 cups / 2 ½ liter homemade bear stock (from the bones) or beef stock
2 bay leaves
1/2 teaspoon dried or fresh thyme
4-5 aggressive cranks from black pepper mill
8 parsley stalks
2 cloves of garlic
Generous pinch of salt
Directions
Whip the egg whites until they are airy. 

In a big pot, stir egg whites, chopped beef, chopped onion, celery, carrot and tomatoes together. Pour the bear stock and set the pot on medium heat, until close to boiling point, and the meat rises to the surface and forms a "lid".

Make a small whole in the "lid" so that the stock is able to evaporate. Let the stock simmer for an hour and a half and sift the liquid through a clean cheesecloth or something similar.

Now the consommé is ready and can be tasted if necessary. Serve in a small glass or big deep spoon.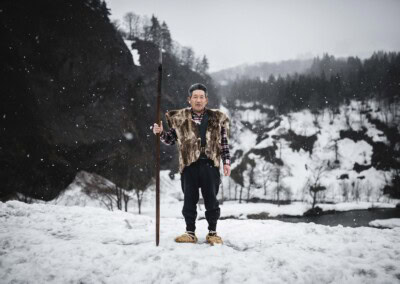 Matagi
"The word 'matagi' is derived from 'matagu', meaning to cross over, step over or straddle, bounding an image of people between two worlds — the realm of humans and that of the mountain deity: yama-no-kami." Scott Schnell, Ph.D., Associate Professor Emeritus in Anthropology This post is only available to members.
Deer Wars
Therein lies the overarching question: what does society want our landscape to look like? We seem to be moving toward a future where, in the name of "rewilding," people are disassociating with the land. This post is only available to members.