ORIGINALLY PUBLISHED IN MODERN HUNTSMAN, VOLUME FOUR: The Women's Issue
GET YOUR COPY HERE
---
Baked Whole Hogfish
Main Course, Serves 2-4
Ingredients
1 Whole Hogfish, of 2-3 lbs.
2 Limes
– Butter
1 Splash White Wine
4 Tablespoons Olive Oil
Cilantro Sprigs
1 Yellow Onion, roughly chopped
Instructions
1. Make three score marks on each side of the body of the fish, and place the fish on foil paper, doubled. Fold the sides to make a "bowl" around the fish so the juices won't spill.
2. Stuff the pieces of butter and half-slices of lime in the score marks.
3. Stuff the inside of the fish with the cilantro sprigs, the onion and a couple of slices of lime.
4. Pour a splash of white wine, 1 tbsp of the olive oil, and the juice of 1 lime over the fish.
5. Season with salt and pepper.
6. Close the foil paper around the fish, and make sure that air can't get out (you want the fish to steam in it!)
7. Bake at 350 degrees, for 2 minutes per 100g (3.5oz) of fish.
8. In a bowl, mix 3 tbsp of olive oil and the juice of half of a lime and serve with the fish.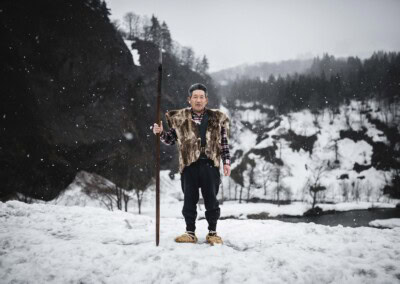 Matagi
"The word 'matagi' is derived from 'matagu', meaning to cross over, step over or straddle, bounding an image of people between two worlds — the realm of humans and that of the mountain deity: yama-no-kami." Scott Schnell, Ph.D., Associate Professor Emeritus in Anthropology
Deer Wars
Therein lies the overarching question: what does society want our landscape to look like? We seem to be moving toward a future where, in the name of "rewilding," people are disassociating with the land.