Andalusian-Inspired Lamb Kebabs with Yogurt and Herbs
PRESENTED BY FINEX
---
This lamb kebab recipe is a fresh take on a legendary recipe that hails from southern Spain's agricultural region. Its varied terrain spans the Sierra Morenas to the Iberian peninsula's shared coastlines of the Mediterranean and Atlantic. Subtle hints of ground cumin, coriander, paprika and sherry vinegar elevate this fine dish typically reserved for authentic Iberian eateries. It's a simple and inspired recipe you can make on the coals or your stovetop.

INGREDIENTS
1/3 – 1/2 pound of boneless lamb per person (or 1/2 – 2/3 pound of bone-in lamb per person. I like lamb leg steak because there's not much bone to cut around and the meat is tender).

MARINADE PER POUND OF LAMB
1-2 garlic cloves, minced
1/2 teaspoon salt
1/2 teaspoon freshly ground black pepper
1 Tablespoon ground coriander
1 Tablespoon ground cumin
1 T sweet smoked paprika
2 Tablespoons sherry vinegar (or balsamic)
1/4 cup extra-virgin olive oil

TO FINISH
Plain full fat yogurt
Chopped cilantro and flat leaf parsley

DIRECTIONS
1. Cut the lamb into cubes and combine with the rest of the ingredients in an airtight container or Ziploc bag. Store in the refrigerator (or cooler) and marinade for up to 24 hours.
2. Thread the lamb cubes loosely onto skewers and cook on a hot 12-inch grill pan for 10-15 minutes, turning 3 or 4 times, until the lamb is medium-rare.
3. Transfer to serving dish and let rest for 5 minutes before serving. Top with a heaping dollop of yogurt and a generous sprinkling of herbs.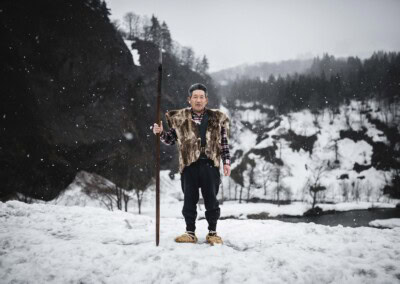 Matagi
"The word 'matagi' is derived from 'matagu', meaning to cross over, step over or straddle, bounding an image of people between two worlds — the realm of humans and that of the mountain deity: yama-no-kami." Scott Schnell, Ph.D., Associate Professor Emeritus in Anthropology This post is only available to members.
Deer Wars
Therein lies the overarching question: what does society want our landscape to look like? We seem to be moving toward a future where, in the name of "rewilding," people are disassociating with the land. This post is only available to members.