A New Golden Era for the Outdoors
Great things could lie ahead for American hunters. As new priorities give rise to the public's engagement with nature, Lindsey Davis explores the shifting opportunities and threats to the modern hunter's landscape
---
2020 has been a year for the history books. Amidst the global crises of public health, social justice and climate, Americans are turning to the outdoors in droves. We are learning how to grow food, registering to hunt, exploring our local trails, buying campers, and hitting the road on a mission to develop a deeper connection to our local environments. Statistics show that more people than ever are turning to the outdoors. With that comes the need for us all to hone, or rediscover, our appreciation for our country's natural assets. While participation in the outdoors is surging, policymakers are investing more money into public lands and recreation infrastructure than they have in generations, with the passing of the Great American Outdoors Act. With Americans' interest and investment in our public lands at an all-time high, we could be looking at the new golden era of the outdoors.
Among other things, this year brought great awakenings. It's clear to many, now, how fragile our food systems are. As grocery store shelves emptied and meat processing plants shut down, people turned to gardening and raising backyard chickens. For months, it was nearly impossible to buy flour and yeast as homemade sourdough was trending. Simultaneously, nearly 5 million Americans purchased their first firearm, and an estimated 6-8 million people have taken up fishing. In Utah, resident over-the-counter elk tags sold out in a matter of hours–for the first time ever. In our National Forests, visitation rates are up 20 percent nationally (150 percent in some areas), with every weekend feeling like a holiday weekend for Forest Service employees. Boat, RV and ATV sales are also skyrocketing, and camping is now viewed by consumers as the safest way to travel. Our response to being cooped up has been to get out, and many are turning to the old ways with some new tools.
Hunting, fishing, local food-sourcing and access to the outdoors are becoming mainstream values. 80 percent of Americans are spending time outdoors now, with 32 percent doing so for the very first time. This is an industry-wide, tectonic shift in who hunts, fishes and hikes, and what the outdoors now means to us as a public.
Such rapid growth has presented new complications. Campgrounds and trailheads are overcrowded. With such high visitation rates, sewage systems are proving inadequate. First-time campers are being pushed to undeveloped and remote areas with no education, and public lands hunters are seeing increased competition in already-pressured ecosystems. People are flocking to the outdoors, but who is teaching this rush of newcomers how to be responsible in the wilderness? Equally concerning are access issues–more apparent than ever. As lockdowns went into effect and people were encouraged to spend time in their local wilds, drastic inequalities came to light as 100 million Americans did not have access to a park or green space within a 10 minute walk from their homes. There's conflict, inequality, pollution issues, and a flood of important questions for us all to be considering as we think about a new era of the outdoors–and who will be able to use it.
When we look at outdoor ethics, there are a handful of widespread educational initiatives (Leave No Trace, Smokey The Bear and the like) that new outdoorspeople are exposed to. Large retailers like REI were deemed non-essential this Spring, and closed for months. Sales of outdoor equipment soared through Amazon and Walmart, who have no existing customer interface for imparting outdoor ethics. Encountering educational resources depends entirely on where you go, who you bought your equipment from, or the knowledge and values of your own community. For the most part, ethics are learned over time, passed down, or shared peer-to-peer. My own principles have been ingrained in me culturally, by being corrected or inspired by the people around me and shown how to care for the environment. Ethics take generations of effort to cultivate — something we haven't had time to foster anew this year.
This is not a new topic for experienced hunters — we are well aware of the lack of infrastructure and educational opportunities welcoming new hunters, and the critical importance of teaching an ethic that leads to retention and the stewardship of our natural resources.
If we look at the widespread new interest in food security in parallel with the desire to be building a relationship with the outdoors, it's reasonable to interpret this as a long-term on-ramp for many folks to discover hunting, foraging and fishing as a way of life. Because registered hunters have been on the decline for years, and conservation funding threatened as a result, it is crucial that we as a hunting community view this as a real moment for leadership and an opportunity to educate, impart ethics, and be truly welcoming to new folks in the outdoors–as if the future of hunting and conservation depend on it. Imagine what 6-8 million new sportfisherman and anglers, all contributing to excise taxes with their licenses and equipment, could do for funding fish restoration and management plans if we retain their interest in the pursuit. And what if we took hunter's education into our own hands, to more effectively educate new adult hunters, leaning into the need for ethical and skillful education in the field?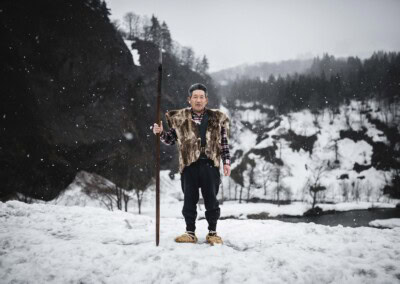 Matagi
"The word 'matagi' is derived from 'matagu', meaning to cross over, step over or straddle, bounding an image of people between two worlds — the realm of humans and that of the mountain deity: yama-no-kami." Scott Schnell, Ph.D., Associate Professor Emeritus in Anthropology This post is only available to members.
Deer Wars
Therein lies the overarching question: what does society want our landscape to look like? We seem to be moving toward a future where, in the name of "rewilding," people are disassociating with the land. This post is only available to members.