5 Knives for the Everyday Outdoorsman
Review & Photography by Matt Henry
---
Every outdoorsman should have a proper knife for any given task, whether out and about, or in the field. Keep in mind that knife details are contingent on what your purpose for that knife will be used for. Hunting, fishing, camping, every day carry, etc. There are exhaustive lists of uses for knives, but for this review, we're going to focus on the everyday carry, hunter, and camper. These are knives you can carry for most tasks around the camp, on the trail, and out in the field. Before we get started, here are some core things to consider when selecting a knife:
1. How does this knife feel in hand? Balance/weight/handle comfort/finger choil placement/ergonomics. You know a good knife when you pick it up and it just feels right.
2. How does this knife carry? Am I really going to carry this thing?
3. Edge retention / ease of sharpening / maintenance. Does this knife fit my lifestyle and will it suit my needs for my adventures?
4. Blade shape and purpose. How will this blade perform? Can it be used in multiple scenarios?
01
Half Face Blades
Crow Scout Jr
The name and story behind Half Face Blades pretty much sums up the review of this knife. This is a beast of a knife and the specs behind the blade stand to the test. This Crow Scout Jr is a serious tactical blade but also has the walk and talk of an everyday carry and camp/hunt/fish knife. There's not much this knife wouldn't be able to do.
First impression is that it feels great in the hand. The G-10 / Burlwood handles are contoured to fit the hand perfectly no matter how you position it. Solid balance in the index finger choil, but slightly heavy in the back end. Has an excellent full tang with a lanyard hole. The top of the spine is what makes this knife very unique and sets it apart from most knife makers. It reminds me of the edges of an arrowhead. No jimping needed on the spine because you've got that rough texture all the way down the spine. Fitting for this knife and even the Half Face warrior with great etching compliments every part of this knife. Solid stonewash etching on the S35VN steel. This knife will keep an edge and take a beating. The S35VN steel is also fairly easy to put a new edge on when needed and it's going to withstand the elements when you're out in the field.
Overall very impressed with this knife. The natural vegetable-tanned leather sheath is also a unique horizontal carry. You can remove the horizontal strap and run a belt through the sheath for a vertical carry. Love the design of the sheath, but it is slightly bulky on the belt. Prefer to carry this one horizontal on the back.
Everything about this knife feels great. Love the detail and contour in the handle. This thing was made for a warrior.
Blade Length: 4"
OAL: 8 3/8"
Steel: S35VN
Handle: G-10 / Burl Wood
Sheath: Vegetable-Tanned Leather
Price: Starting at $375
02
Gaskill Knives
Tanner EDC
Handmade in Texas, everything about Gaskill Knives screams they are made to be used. These knives are made by an outdoorsman for the outdoorsman. First impression with the Tanner EDC model by Gaskill is that the balance is spot on. You can place your index finger on the choil and just let it rest. Full tang blade and what sets this knife apart is the taper of the tang along with the flawless handle details. This keeps the weight of the entire knife completely balanced in the center. Drop point blade shape with a thicker belly than most blades with a length of 3.5 inches.
From spine to edge you've got 1.5 inches of cutting depth. CPM154 steel is exceptional in wear and corrosion resistance. This steel will give you an edge you can shave with, and can also take a beating for the guys who really use their gear. The blade and point is designed for getting in those tight places and detailed cuts. A thicker belly in the blade gives more control with pushing and pulling through your cuts. From the tip to the belly, there is a 1.5″ area in the front for pushing into a skive motion to give additional options for slices and thinner cuts. The shape and feel of this knife is one you can tackle any task with. From the flat belly for precise flat cuts to the a pronounced point for stabbing and puncturing, this is a knife for around the camp or in the field that you can rest assured it won't fail you.
For an every day carry blade, this knife comes with a Kydex sheath setup for horizontal carry (with the option to swap out Molle straps for any setup). The smaller handle also gives a minimal footprint in your carry options without sacrificing control in the hand.
Blade Length: 3.5"
OAL: 7.5"
Steel: CPM 154
Handle: Spalted Pecan and Ivory Paper Micarta with G-10 liners
Sheath: Kydex with interchangeable horizontal carry Molle straps
Price: $325 (this model)
03
DiamondBlade
The Summit
First impression is that this knife reminded me so much of the KOA Alpha Wolf, but with a lot more attention to detail. Come to find out, Diamond Blade is a collaboration between Charles Allen (Knives of Alaska President) and Hobie Smith. So the similarities in the blade shape and design carries with Charles Allens design over at KOA.
This blade was made for hunters. It's a great choice for field dressing and getting the job done with mid to large sized game. The friction forged D2 high carbon steel is excellent for edge retention and ease of sharpening, but you are going to have to take extra care of this blade. D2 is prone to rust if not cared for. So make sure and clean this blade well and always oil before storing.
The shape of this stag handle is fantastic and with an almost 5" length you can relax in the palm for extra reach. 1.25" of jimping on the spine lets you make sure to handle this knife with confidence in the messiest of situations. Overall weight and feel is great in the hand with a slight unbalance in butt of the handle due to the extra length. The drop point blade shape is exceptional for pretty much any task. The detail of the 4.5 degree wedge grind and 16-18 degree sharpened bevel make for precise cuts. This Summit comes with a vertical carry leather sheath interior lined with Kydex. The footprint of this knife in the sheath comes to about 10" which makes it a long EDC option for most.
Blade Length: 3.75"
OAL: 8.75"
Steel: D2 High Carbon
Handle: Stag with 3 Mosaic Pins
Sheath: Vegetable tanned leather and Kydex lined
Price: $325 (this model)
04
Civilware
Striker fixed blade
Civilware / Striker Fixed Blade
Founded by professional skater, Geoff Rowley, Civilware knives are made in a California with parts source in the USA. This is a stout knife and has some weight to it. Thicker blade stock than most and with that being said, the butt end does feel a bit out of balance but you can beat this knife to do whatever you want. It has a standard drop point blade with a recurve in the belly and on the top spine. The design of this looks super sexy, but realize sharpening a recurve blade takes some practice and the right tools. If you're using something like the Wicked Edge Sharpener or KME, I'd recommend a jewel stick or curved stones to get your edge hair popping sharp.
The stonewashed AEB-L steel is fantastic steel for corrosion resistance, edge retention, and ease of sharpening. However, keep in mind the recurve. The recurve shape excels with the draw and is great for finer detail slicing. Pulling the cut with this blade comes with ease. Great for cutting rope, straps, clearing small branches, and pulling the blade through a cut. Handle is made of OD Micarta and over time will gain some texture. The micarta handle comes media blasted, so it has subtle texture. Handle is straight and has some weight to it. Feels great in the hand and you can choke up on the blade for those detailed tasks with plenty of room in the handle. Leather sheath for vertical carry. Blade sits nice and deep in the sheath, giving a minimal print for an everyday carry.
Overall, great knife for draw and multipurpose use. 4" blade and 4.5" handle giving an OAL 8.5". Blade shape has its pros & cons with sharpening and minimal contact in the belly for slicing on flat surfaces. Balance is heavy in the handle. You have big hands and like a recurve? This knife is for you!
Blade Length: 4"
OAL: 4.5"
Steel: AEB-L
Handle: Micarta
Sheath: Leather
Price: $125 (this model)
05
Helle Knives
Trofe
The first thing you'll notice with this knife is the weight. It is surprisingly lightweight. Balance is great in the middle at the finger choil. Made by true outdoorsmen in Norwegian style, this knife is a great lightweight everyday carry option, as well as for out in the field. The Trofe pattern has a very unique Scandinavian grind pattern that creates a razor sharp edge and its triple laminated stainless steel is excellent corrosion resistance.
Handle feels very rounded and stout in the hand but does not have the weight of its appearance. Oak, leather, stag horn and curly birch make up this lightweight handle. There is a slight inconsistency in the smoothness of the handle that might hint to a mass produced type of knife. You can feel the transitions from each material that makes up the handle. Perfect blade for around the campsite and on the trail for your pack. Its lightweight features make it a great choice for every day carry and the straight edge design suits pretty much any task you can throw at it. Comes with a leather sheath to carry vertical with a strap that securely attaches to a post on the pommel.
Blade Length: 3.5"
OAL: 7.75"
Steel: Stainless Steel
Handle: Oak, Leather, Stag Horn, Curly Birch
Sheath: Leather
Price: $160 (this model)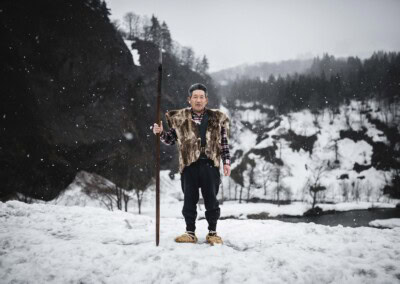 Matagi
"The word 'matagi' is derived from 'matagu', meaning to cross over, step over or straddle, bounding an image of people between two worlds — the realm of humans and that of the mountain deity: yama-no-kami." Scott Schnell, Ph.D., Associate Professor Emeritus in Anthropology This post is only available to members.
Deer Wars
Therein lies the overarching question: what does society want our landscape to look like? We seem to be moving toward a future where, in the name of "rewilding," people are disassociating with the land. This post is only available to members.